Magic Enhancer is one more Photoshop-compatible plug-in for Windows designed by ImageSkill to help you make your photos better. It can work both with commercial software like Adobe Photoshop, Adobe Photoshop Elements, Corel (Jasc) Paint Shop Pro, Microsoft Digital Image Suite and free like software IrfanView, XnView.
Using Magic Enhancer you can essentially improve your photos adjusting its lightness, contrast and color balance. Magic Enhancer is perfect for enhancement image and photo with lack of lightness or uneven illumination, silhouetted images on dark background. Convenient color temperature control allows fixing color balance defects easily. Plug-in has attractive and user-friendly interface, when in use you can keep an eye result histogram.
Magic Enhancer has 2 versions - free Magic Enhancer Lite and shareware Magic Enhancer Pro. Using the latter you can make your photos more expressive by means of additional features
Adjusting local contrast of your photos and emphasizing fine details
Removing noise
16-bit image mode support
Script (action) feature
Preset feature
Free upgrade
Free technical support
All these features are grayed in free Magic Enhancer Lite.
Magic Enhancer Pro user interface.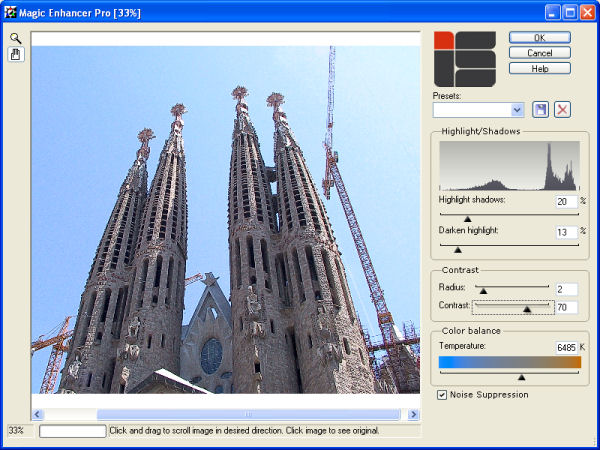 Run setup file. Installer try to find suitable graphic hosts. Choose one of them from the list. If you want to install plug-in in other folder, select item "Other path" and set path. In this case you must set "Plug-ins path" of your graphic host to setup folder.
Plug-inís installer automatically detects the following graphic host applications:
Adobe Photoshop 7, CS, CS2
Adobe Photoshop Elements 2, 3, 4, 5
Jasc Paint Shop Pro 7, 8, 9
Corel Paint Shop Pro (Photo) X, X1
Corel Photo Paint 11,12
Xara Xtreme
Microsoft Digital Image Suite 2006
Macromedia Fireworks 2004, 8
Ulead PhotoImpact 8,9,10,11,12
Plug-in can work under the following graphics host properly
XnView
IrfanView
Corel Painter
Plug-in may be compatible with other graphic hosts as well.
In order to uninstall plug-in run uninstall.exe or use Add and Remove Programs item in the Control Panel or Start Menu.