Magic Denoiser
Magic Denoiser is amazing noise reduction Photoshop-compatible plug-in for Windows designed by ImageSkill Software that can work with both commercial software like Adobe Photoshop, Adobe Photoshop Elements, Corel (Jasc) Paint Shop Pro, Microsoft Digital Image Suite and software like free IrfanView, XnView.
Magic Denoiser has keen sensitivity in detecting various image features and fine details preventing them from blurring in the process of noise reduction. The plug-in supports 16-bit images and produces excellent quality results just removing the noise preventing image features and details unchanged. Using the original software architecture Magic Denoiser performs almost instant noise removing from images. It is indispensable in the case of low size of digital camera sensor, high ISO setting and long exposures. The plug-in is very useful for denoising of a series of image shots, especially when the fixed ISO camera setting and exposure time produced nearly the same noise appearance in each photo.

This help contains the following sections:
Recent changes
v 1.0 - New release.
v 1.5 - Speckle removing option was added.
Install and uninstall procedures
Run setup file. Installer try to find suitable graphic hosts. Choose one of them from the list. If you want to install plug-in in other folder, select item "Other path" and set path. In this case you must set "Plug-ins path" of your graphic host to setup folder.
Plug-in's installer automatically detects the following graphic host applications:
Adobe Photoshop 7, CS, CS2, CS3
Adobe Photoshop Elements 2, 3, 4, 5
Jasc Paint Shop Pro 7, 8, 9
Corel Paint Shop Pro (Photo) X, X1, X2
Corel Photo Paint 11,12
Xara Xtreme
Microsoft Digital Image Suite 2006
Macromedia Fireworks 2004, 8
Ulead PhotoImpact 8,9,10,11,12
Plug-in can work under the following graphics host properly
XnView
IrfanView
Corel Painter
Plug-in may be compatible with other graphic hosts as well.
In order to uninstall plug-in run uninstall.exe or use Add and Remove Programs item in the Control Panel or Start Menu.
Tool, Sliders and Buttons Descriptions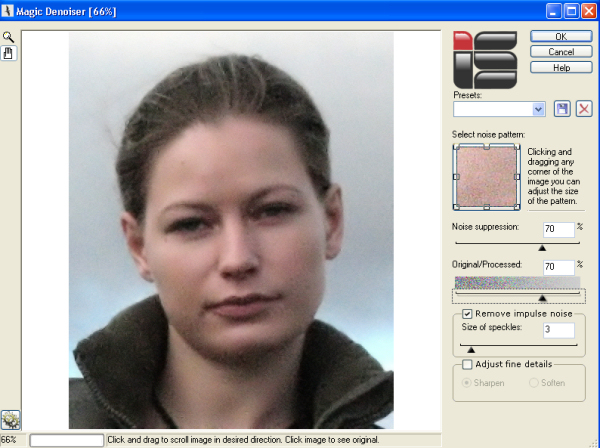 | | |
| --- | --- |
| Zoom tool | Use this tool for zooming. Click to zoom in. Right-click to zoom out. |
| Pan tool | Click and drag to pan images larger than the windows. |
| Select noise pattern | Allows selecting noisy image area with a fixed size of 80x80 pixels |
| Original/Processed | Defines the extent of blending between the original image and the processed version |
| Remove impulse noise | Check this flag to clean up noise like salt and pepper. |
| Size of speckles | Defines the size of speckles like salt and pepper |
| Adjust fine details | Check this flag to choose the type of getting contrast to fine details |
| Sharpen | Allows getting more contrast to fine details |
| Soften | Allows getting less contrast to fine details |
Using Magic Denoiser
This plug-in works under RGB or Grayscale image with 8 or 16 bits/channel with or without transparency.
Open an image in your graphic editor.
Run the Magic Denoiser plug-in. (For example, in the Adobe Photoshop use "Filter->Image Skill->Magic Denoiser" menu item).
Adjust plug-in parameters for desirable result achievement.
Press OK button and return to host.
FAQ and Troubleshooting
I can not find Magic Denoiser in graphic host's effect menu.
Check is there plug-in in "Plug-Ins" graphic host's folder, or set path to plug-in using graphic host's "Preferences" option. Re-run your graphic application.
I can not run Magic Denoiser or Magic Denoiser is grey out in graphic host's effect menu.
Graphic hosts disable the plug-in if the current image is not suitable for use with Magic Sharpener. Image must be in RGB or Grayscale format with 8 or 16 bit/channel. If image has CMYK, LAB or something other format, you have to convert it to RGB or Grayscale
Quick Buy
You can order full version of this plug-in now ($29.95). Just now, we upgrade our products for registered customer free of charge.
Order this product via