[date], ImageSkill Software
ImageSkill: Voting results and new poll
Dear friends,
Merry Christmas and Happy New Year for you and your family.
As usual thank you for voting in our latest poll "Why do you add special effects onto your photo?". At the moment 120 people took part in this poll. You can look now at the current results shown below: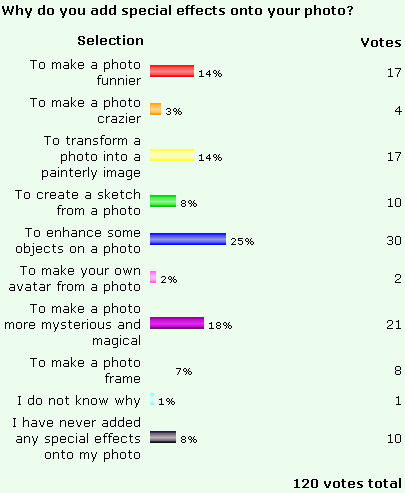 A quarter of our voters have added special effects onto photo to enhance some objects on it. Adding them to 10 peoples who prefer do not apply any special effects to original photo at all one can get that only a third of voters likes to deal with unmodified or slightly modified photos. More than a half of the voters consider various special effects as a way to turn their own flight of fancy into a new reality. We would like to advice all of you feel free to be inventive and enjoy your own creation.
Last poll's result:
What enhancement techniques do people like Photoshop plugins to have?
What cosmetic retouching techniques do you like to use?
NEW POLL!
What do you usually do to create your own postcard?
You can see POLL at our product's page
http://www.imageskill.com/products_index.html
Please, tell us your reason - this information is very important for us.
---
Sincerely your, ImageSkill team.