[date], ImageSkill Software
ImageSkill: Voting results and new poll
Dear friends,
We would like to say thank to all our visitors who took part in our latest poll "What do you usually do to create your own postcard?" The results of this poll are shown below: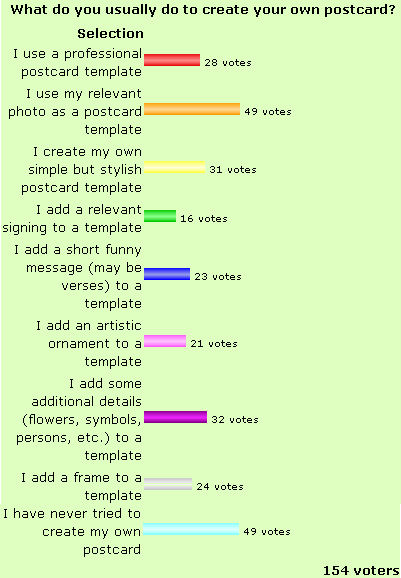 Please keep in mind that these results are only representative for the visitors of our site and can not be generalized.
Last poll's result:
Why do you add special effects onto your photo?
What enhancement techniques do people like Photoshop plugins to have?
What cosmetic retouching techniques do you like to use?
NEW POLL!
You can see POLL at our product's page
http://www.imageskill.com/products_index.html
Please write us your short comments if you vote for "Somehow else"
Thank you in advance. Your vote is very important for us.
---
Sincerely your, ImageSkill team.