ImageSkill: Update your Image Repainter 1.0 to 1.1
Sep 5th 2006, ImageSkill Software
---
Dear Subscriber,
I am glad to inform you that we have updated our plug-in - Image Repainter 1.1.
As registered customer you can update your Image Repainter free of charge.You can download Image Repainter 1.1 from
*********************
This file is protected, please enter UserName and Password.
Your UserName is: ******
Your Password is: ******
Please, enter UserName and Password carefully, without addition symbols and blanks. We recommend use copy-paste method (Ctrl-C and Ctrl-V button combination).
Attention: This possibility will available only 2 weeks (till 09/19/2006).
If you could not download ImageRepainter 1.1, write us, we send it you directly.
Image Repainter allows you to make a photo to be «slightly brighter», or «slightly more colorful» taking main colors and brightness from the photo you like. It is very useful for recoloring of a series of image shots, especially where slightly different lighting and camera settings produced unnatural color effects in each photo like gray color appearance in your seaside photos while it should to be blue. Image Repainter is of rare class of tools which «just understand you». You only give it the image you want to fix and a «template image», which color content is close to what you want see on the photo to be fixed. Image Repainter will change the color content of the work image in a smart, fast and pretty way. You can do a global color change or local one. In the latter case you only need to select any particular area of an image where color change should be done. Extra fade brush can help you if necessary easily and intuitively obvious correct the result.
Feature at glance
Very simple and intuitive user interface with only a few controls

Almost instant image recoloring

Performs brightness and/or color transfer globally or locally

Fade brush for local original color restoration

Multilingual interface

Support script (action) feature

16-bit image support
Image Repainter home page is http://www.imageskill.com/imagerepainter/imagerepainter.html
Image Repainter screenshot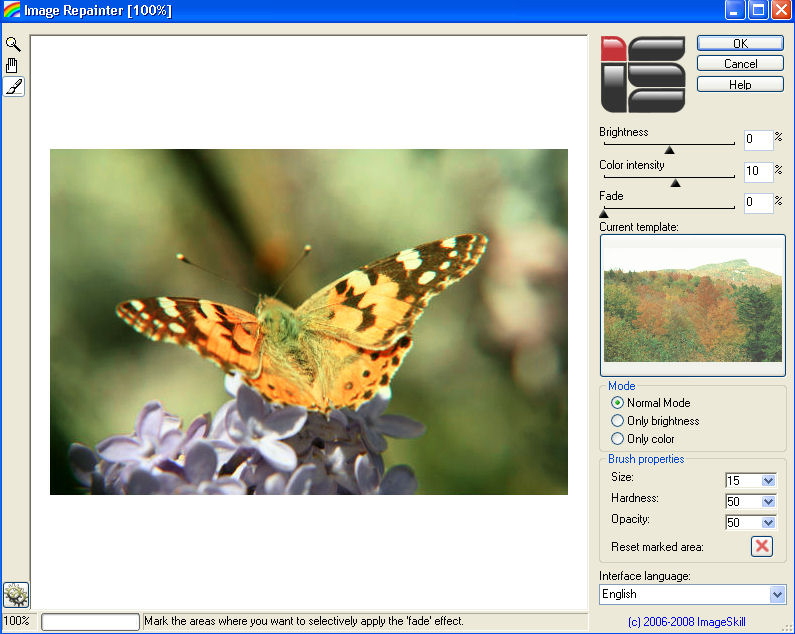 Sincerely your, Chernichenko Dmitry.
---
About ImageSkill Software
Our team works in the image processing area since 1998 year. Over the last seven years we have worked for the JASC Software Inc., specializing in creation of photo-editing software. (In 2004 JASC was acquired by Corel Corporation). We took an active and very productive part in developing of the last four versions of their software (JASC Paint Shop Pro 7,8,9, Corel Paint Shop Pro X). Also we have developed image enhancement tools for Xara Group (Xara Picture Editor) and LG Electronics.