ImageSkill: Update your Tile Builder up to 1.3
Sep 18th 2006, ImageSkill Software
---
Dear Customer,
I am glad to inform you that we have updated our plug-in - Tile Builder 1.3.
As registered customer you can update your Tile Builder free of charge. You can download Tile Builder 1.3 from
***************************
This file is protected, please enter UserName and Password.
Your UserName is: *********
Your Password is: *********
Please, enter UserName and Password carefully, without addition symbols and blanks. We recommend use copy-paste method (Ctrl-C and Ctrl-V button combination).
Attention: This possibility will available only 2 weeks (till 10/03/2006).
If you could not download Tile Builder 1.3, write us, we send it you directly.
There is no necessity uninstall previous versions of Tile Builder at first.
New feature
Now you can process images with 16-bit/ channel (RGB mode 16 bit, GrayScale mode 16 bit).




Just now, plug-in can process selection correctly. Plug-in works only selection, unselected area will be unchanged (it area are shown red semi-transparent color in preview windows).
Tile Builder home page is http://www.imageskill.com/tilebuilder/tilebuilder.html
Tile Builder screenshot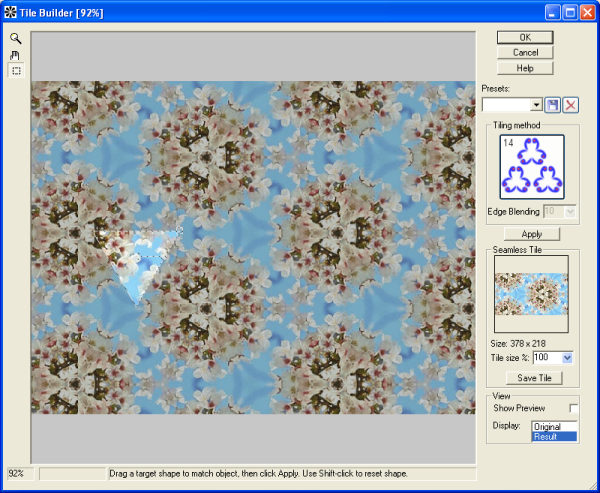 Sincerely your, Chernichenko Dmitry.
---
About ImageSkill Software
Our team works in the image processing area since 1998 year. Over the last seven years we have worked for the JASC Software Inc., specializing in creation of photo-editing software. (In 2004 JASC was acquired by Corel Corporation). We took an active and very productive part in developing of the last four versions of their software (JASC Paint Shop Pro 7,8,9, Corel Paint Shop Pro X). Also we have developed image enhancement tools for Xara Group (Xara Picture Editor) and LG Electronics.